Skincare has made a huge traction in importance in the recent times, and unlike previously, all are equally invested in the prospect of skincare. It is no longer an activity set aside only for women, but rather has become a necessity for all. Every person wishes for good skin. With it comes the need for availability of good quality products, in affordable prices. Enter Suganda skincare with products made with care and chosen, verified ingredients.
Suganda was founded in 2010, by Bindu Amrutham, when she took it upon herself to learn about the science that went behind these acute skin problems, after being in a tough spot herself, along with her son. She researched of the particular solutions, and ingredients, and enrolled herself in cosmetic formulation courses, one after another. With sheer determination and unrelenting will to help people, she created Suganda, with the vision of providing skincare solutions that were effective while being undeniably gentle on the skin.
Suganda skincare believes that people deserve to feel confident in their own skin. Skin conditions come with both physical and emotional pain, and the aim is to provide effective skincare solutions that alleviate that pain. Fueled by principle, they work persistently to ensure that the customers get functional skincare solutions that both prevent and cure skin troubles with the potent combination of proven natural ingredients and and ckinical science. The products are listed and categorised by skin types, concerns, product types, ingredients and combinations for the customers' ease. All the products are cruelty free, and are safe during pregnancy and lactation period.
Personal Experience:
Suganda Lactic Body Lotion:
Great for hydration and gentle exfoliation
Improves skin texture and brightens skin tone
Eliminates rough patches on elbows and knees
Reduces in-grown hair
The product is suitable for all skin types, and great for conditions like keratosis pilaris and strawberry legs. It has the pH of 4.5-5, and contains ingredients like 5% lactic acid, 2% niacinamide and calendula oil. The product is to be applied immediately after bath on semi damp skin, twice daily. It has an overall 4.73 rating out of 5 and great customer reviews.
Suganda Centella Green Tea Facewash:
Great as a hydrating and smoothening component
Skin feels soft and plump afterwards
Gently dissolves makeup
Cleanses impurities and enriches skin with antioxidants
The product is suitable for oily/combination, acne prone skin. It has the pH of 6, and contains ingredients like Centella asiatica, green tea, panthenol and glycerine. The product is to be used in small amount and massaged gently over damp skin, before rinsing it off. It has an overall rating of 4.75 rating out of 5, and glowing reviews.
Suganda 10% Vitamin C + 2% Arbutin Serum: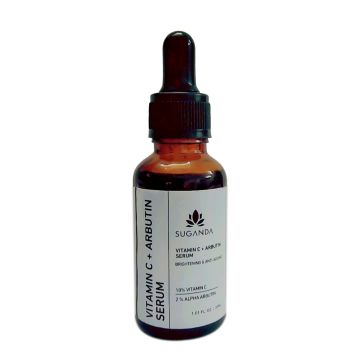 Fades dark spots and discolouration
Brings about even-toned skin
Heals hyperpigmentation
The product is suitable for all skin types, and treats dark spots and dullness. It has the main ingredients, 10% Vitamin C, and 2% Apha Arbutin. It must be used only in 2-3 drops, applied daily before or with the moisturizer. The product can be used in either or both the morning and evening skin care regimes. It has an overall rating of 5 out of 5.
Suganda 5% Niacinamide Serum:
Improves skin tone and brightens complexion
Minimizes acne marks and shrinks pores
Enhances skin texture
This product is suitable for all skin types that are acne prone and ageing, and is especially great for conditions like rosacea and redness. It has the pH of 6, and contains ingredients like 5% niacinamide, 0.5% hyaluronic acid, 1% panthenol, 0.2% madecassoside from Centella asiatica, and green tea. The product is to be applied in 2-3 drops, after rinsing the face, before applying a moisturiser, twice daily. It is rated 4.62 out of 5, and has great reviews under it.
Conclusion:
Suganda products have been delivering what they initially promised over a decade, and have the heartiest support of all their appeased customers. The dedication behind the brand reflects clearly in their products, and we can only hope that they keep up with this as years go on. Having beautiful skin seems like a personal goal to be accomplished and works as a confidence boost to many, and Suganda had been helping us all regain it.
Shop Suganda products at their website: Suganda Skincare
Check out our other works: Baggout.com
To the skin you deserve: Review on "SUGANDA" Skincare: was last modified: June 6th, 2022 by Anurakta Ray