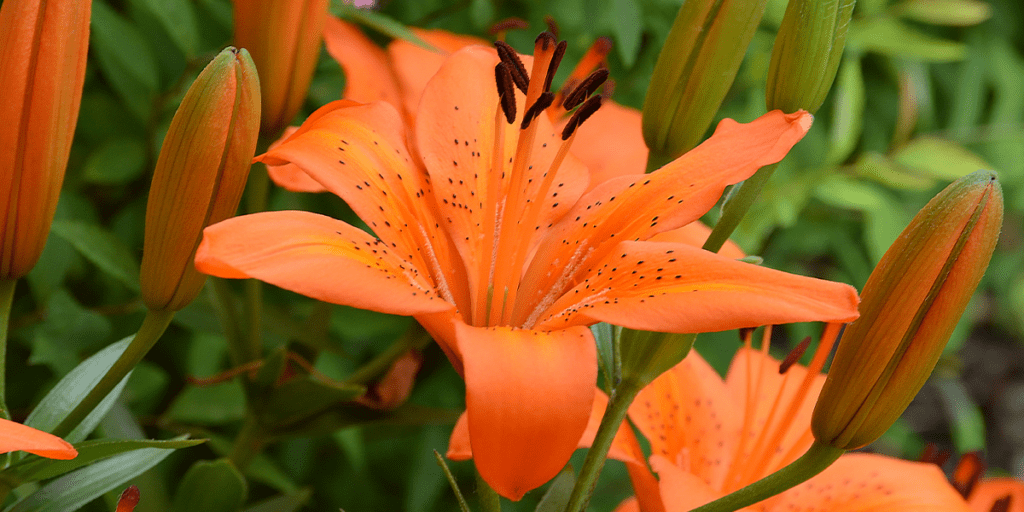 There's something special about the color orange. It's bright and effervescent like a mimosa, yet warm and serene like a sunset. In color therapy, orange is used to stimulate creativity, pleasure, optimism, and productivity. Filling your landscape with vibrant tangerine plants will undoubtedly lift your spirits! 
Add These Incredible Orange Plants to Your Landscape 
These are all sorts of plants boasting beautiful orange tones throughout their flowers or foliage. Here are our favorite varieties for Illinois landscapes. 
Fall Fiesta Sugar Maple
This fast-growing maple tree has stunning foliage that transitions to the most spectacular orange shades every autumn. It's native to the midwest, so it's incredibly low-maintenance and fuss-free. It performs best in medium to moist soil but is still relatively drought-tolerant once established. Fall Fiesta sugar maples reach 60–75 feet tall at maturity with a spread of 30–40 feet, and with an impressive growth speed of two feet per year, they're sure to provide plenty of shade for your landscape in no time at all! 
Asiatic Lilies
We love the vivid, ultra-saturated petals of perennial Asiatic lilies. They set the landscape ablaze with their bright colors every summer, and their distinctive speckles add subtle dimension and contrast. You can plant Asiatic lilies in late fall or early spring, and you'll find they spread and grow quickly with little maintenance required. Orange Asiatic lilies make fantastic cut flowers for bouquets, so you can also bring that gorgeous tangerine color indoors!  
Orange Rocket Barberry
One of the best orange shrubs for landscaping, Orange Rocket barberry foliage emerges as golden orange, matures to bright green, and then takes on a blazing red-orange tone in fall. It's especially gorgeous during those transitional stages when the leaves create a multi-colored prismatic effect. At maturity, barberry reaches 3-5 feet tall and 1-2 feet wide with thick, thorny foliage, making it popular for border hedges to keep out deer and rabbits.  
Crotons
Often grown as houseplants, crotons are vivacious tropical plants that you can bring outdoors for summer and fall in Illinois. Their multi-colored leaves feature splashes of yellow, green, and orange, but the more sunlight they get, the brighter their orange tones become. They're a fabulous filler plant for mixed container arrangements to balance out your tall "thrillers" and trailing "spillers." Water them frequently when your crotons are outdoors—if they're thirsty, they'll let you know with drooping leaves, but they'll perk right back up once they get their moisture fix.
Fireball Oriental Poppies
We typically associate poppies with the color red, but orange poppies are particularly beautiful. Their petals have a lovely texture similar to crepe paper. If you plant these pretty poppies in your yard, you can expect plenty of pollinators to visit. Butterflies and hummingbirds love them, but hungry rabbits and deer can't stand them! Oriental poppies bloom through late spring and early summer, then go dormant after their blooms fade, so we recommend planting them near some late-season bloomers so that your landscape is never lacking in gorgeous orange color. 
Daylilies
These hardy, resilient perennials are drought-tolerant, pollution-tolerant, and can handle poor soils, so they're perfect for low-maintenance urban gardens. Daylilies spread quite quickly, so we recommend dividing them every 3–4 years so that their roots don't get overcrowded. Plant the divisions elsewhere in the landscape or share them with your neighbors! Surprisingly, their flowers are edible—some folks like to pick their blossoms before they open, dip them in tempura batter and fry them. Delicious!
Orange Dream Heuchera 
Heucheras are always an excellent choice for high-impact foliage that makes a splash. Its ruffled leaves come in every color imaginable, and the Orange Dream variety really stands out from the rest! If you love fall foliage but wish it could last through the entire gardening season, you'll love this shade-tolerant perennial that brightens the darkest corners of your garden with stunning orange color through spring, summer, and fall!

Explore even more incredible orange landscape plants for sale in Illinois by visiting Platt Hill Nursery. Feel free to ask our staff for suggestions on plants that will suit your space and skill level. You'll love having a yard that radiates bright, energetic color! 
Platt Hill Nursery is Chicago's premier garden center and nursery.