Privacy trees are a great investment—they make front and back yards feel more homey and comfortable, and outdoor entertaining feels more comfortable when you've got some privacy from neighbors. Privacy trees are also great for shielding front windows if you keep your curtains open for your plants! Whether you have a small front yard in the city or a sprawling field in the country, there are plenty of evergreen trees and plants for privacy to suit landscapes of any size.  
Evergreen Trees for Privacy in Large Yards in Bloomingdale and Carpentersville
To create privacy in a large space, you'll want to create a border of trees—kind of like a living fence! In landscape design, we call this "privacy screening." You can best accomplish this with tall, narrow trees with a columnar shape. Look for fast-growing varieties, so they mature quickly, creating a wall of greenery.
Here are some large evergreen privacy trees you can plant in Illinois:
Columnar Norway Spruce
We love this classic spruce for privacy borders around larger spaces. It reaches a stately 30 feet high at maturity but maintains a tidy, compact, 10-foot spread, making it easy to plant in a row.
It's an especially fast-growing evergreen tree, so you won't have to wait long for your privacy screen to fill out. Columnar Norway spruce prefers full sun and evenly moist soil is ideal, but you should avoid overwatering.
White Pine
For supersized yards that need a lot of coverage around the perimeter, opt for the white pine. This beauty stretches 35 feet across and reaches 60 feet high.
Its needles are glossy and light with warm undertones, and they're surprisingly fine and silky—beautiful in the sun! Planting en masse or near a tall home is ideal—it can be sensitive to windburn if planted alone in an open area.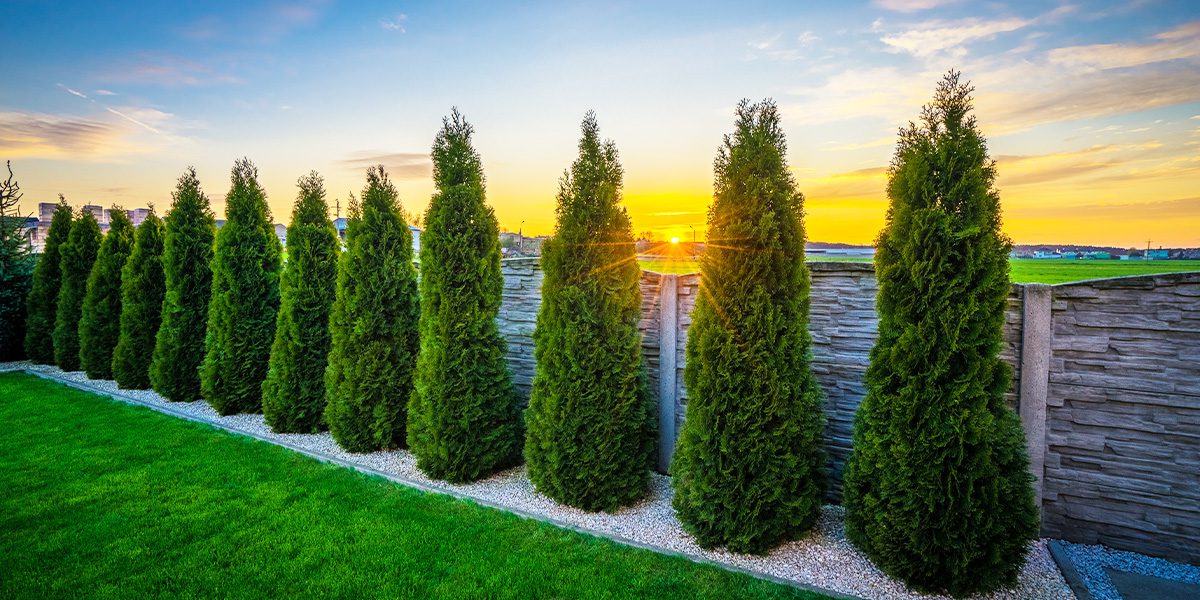 Evergreen Shrubs and Trees for Privacy in Medium Yards
A single statement tree or a pair of strategically placed trees near the entrance of your home can provide a sense of privacy without taking up all the available space. Some varieties are so narrow you can still create a privacy border around the perimeter of your yard without overwhelming the space. There are also some lovely evergreen shrubs that still reach impressive heights without spreading too wide.
Here are a few lovely evergreens that fit the bill:
Dark Green Arborvitae
Also known as the eastern white cedar, this satisfyingly slender evergreen tree grows tall and maintains a uniform width, just like a stone column. If you prefer a manicured look to your landscape plants, the dark green arborvitae is perfect for small privacy screens with 3–4 trees.
Its texture is fine and fluffy—less severe than your typical prickly-needled evergreen. It grows in full to partial shade with moist to average soil. 
Weeping White Spruce
This gorgeous, ultra-dramatic weeping evergreen is perfect for small yards, with a 6–10 foot spread and a whopping 50-foot height at maturity. You'll love watching it grow taller each year while still remaining nice and compact.
Just make sure you don't plant it under any power lines! It prefers full sun or partial shade. Weeping white spruce always impresses with its cool blue-green foliage, sweeping elegantly downward like a skirt.
Junipers
These versatile evergreens can be grown in tree or shrub form. They're known for their pretty berries that offer food for wild birds. Blue point juniper is a stunningly beautiful, upright growing shrub reaching 12 feet tall and 9 feet wide. Spartan juniper has a more columnar shape, with a 7-foot spread and a max height of 15 feet. Skyrocket juniper is extremely narrow, only spreading 2 feet wide but still reaching 15 feet tall, so it's the perfect perimeter border plant for a modestly-sized yard in the city.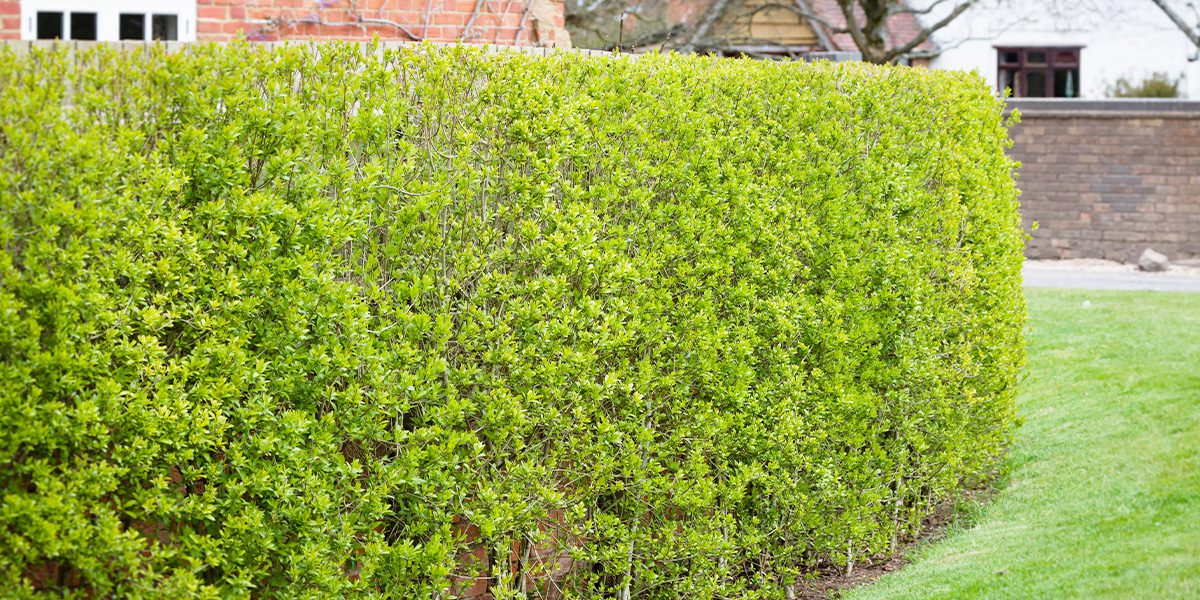 Shrubs and Plants for Privacy in Small Yards in Chicago
If you're hesitant to plant a bunch of tall trees in your yard and you'd prefer something that doesn't reach quite so high, shrubs and hedge plants are the way to go.
Here are some deciduous, non-evergreen shrubs that add privacy to small yards:
Cheyenne Privet
A wildly popular hedge plant that's easy to prune, Cheyenne Privet wows us with its lightly scented flower panicles that emerge in late spring. Its dark, glossy leaves contrast beautifully against its creamy white blooms.
After its flowers fade, you can prune Cheyenne Privet into a smooth, even shape for a tidy, manicured look or let its natural texture fill out. 
Mohican Viburnum
Dome-shaped clusters of delicate, fluffy white blooms give way to striking orange-red berries in fall. Birds and butterflies can't resist this showy hedge plant—it adds so much splendor to small landscapes! It's quite drought-tolerant once established, so if you spread some mulch around the soil base, you won't need to water it very often.
Plant a single Mohican viburnum in front of your window, or plant a few in a row and prune them every year to maintain a uniform shape.
White Pillar Rose of Sharon
This romantic flowering shrub is surprisingly hardy! Its bold, dramatic blooms add so much curb appeal.
White pillar rose of Sharon makes a lovely naturalistic border plant as an alternative to the standard symmetrical hedge. Plant them in a row, and they'll reach as high as 15 feet tall at maturity.

There are plenty more privacy shrubs and evergreen trees for sale in Illinois here at Platt Hill Nursery in Bloomingdale and Carpentersville. Visit us soon, and we'll be happy to show you a range of options to suit your unique space, budget, and style.  
Platt Hill Nursery is Chicago's premier garden center and nursery.