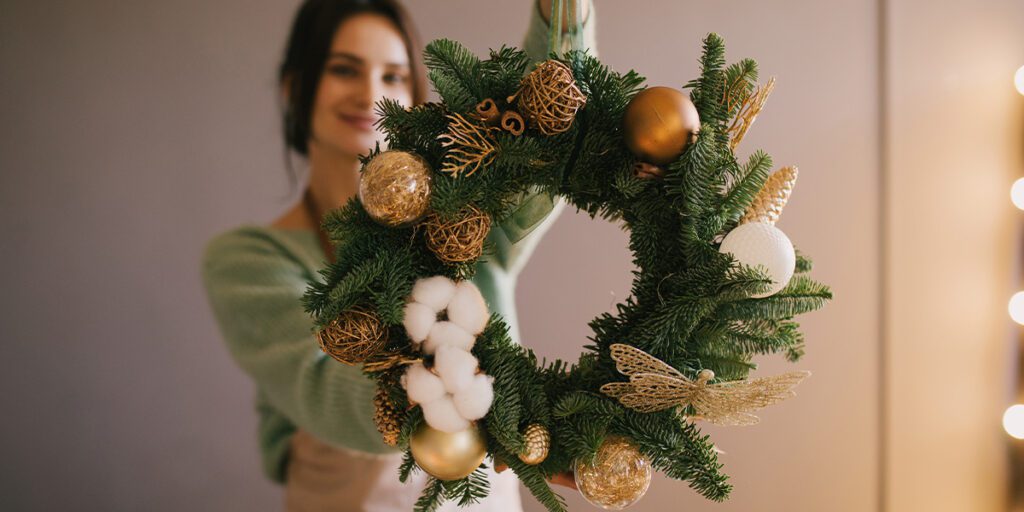 Is the old life like garland not cutting it this year? After years of going in and out of storage, it's no wonder! Fresh greenery is the perfect solution to create new and unique ideas for decorating your home through the holiday season. Here are some of our favorite fresh ways to use greenery in your Christmas decor!
Make a garland for the fireplace, around mirrors, and across doorways. We love how garland looks draped down a staircase, but it's also gorgeous framing mantles, large mirrors, and doorways. It makes the perfect backdrop for family pictures and adds warmth and structure to your decorations. 

Dress up your dining chairs with tiny wreaths. Mini wreaths are a great option to complement your dining table display and hang on the back of your chairs. They're elegant and sweet, adding a bit of cohesion to your overall table design. You can even gift them to your guests as a holiday party favor! 
Make your own mini wreaths using fresh greenery or clippings from your garden, such as red twig dogwood and dried berry twigs. If you want to make them super sentimental, have a family craft day and make a special one for each of your guests!
Wrap fresh greenery around your outdoor holiday planters. Garlands belong in more places than window sills and fireplaces. Wrapping the top of your outdoor planter rims with garland and evergreens adds character and texture to the overall design!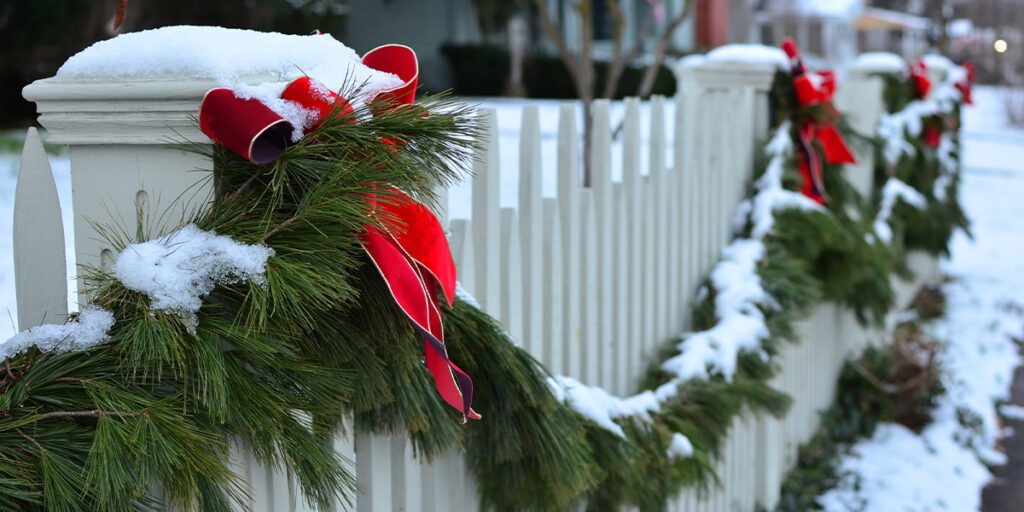 Wrap fresh garland along your fence. Bring the holiday decorating outside using fresh greenery along your fence or on trellises and arbors! Not only will this create an enchanted wonderland in your yard, but it also gives some of your garden structures multi-season purposes. Remember to hang the lights and mistletoe!
Place swags along the staircase instead of a long garland. If you want to try something other than the typical staircase garland this year, consider hanging holiday swags along the balusters! Swags are a great option if you have a crowded space and a traditional garland is a bit overwhelming, but you still want fresh greenery. You can also opt for hanging decorations and stockings from the balusters instead. 
Get creative with your tree skirt. Your Christmas tree is the staple element of your holiday display—why not make it especially radiant this year? Try wrapping a bulky knit blanket around the bottom for a super cozy, hygge aesthetic, or make a metal collar wrapped in fabric for something more structured! 

How Long Do Fresh Holiday Greens Last? 
When properly maintained, fresh greens can last for around three weeks inside the home. Presoak your greenery to get them hydrated, then spritz it with fresh water every day. You can also apply an anti-desiccant to help keep water from evaporating from the leaves and needles. Spray the stems with cool tap water, ensuring fresh water reaches the cut ends and absorbs into the holiday garland. Outdoors, fresh garlands, swags, and wreaths can last up to eight weeks, but we recommend using the above methods to keep them fresh as long as possible. 
Best Greenery Varieties 
Juniper: a hardy bough known for its texture and berries; it's excellent for making a big impact in holiday decorating.
Pine: Available all over the country, pine makes fantastic outdoor holiday garlands, swags, wreaths, and table runners. The long needles are elegant and add sophistication to any setup.
Red Twig Dogwood: This shrub variety is very popular in arrangements and outdoor displays for its bright, festive-colored branches.

Are you looking for new holiday decorating ideas for 2022? Visit our team at Platt Hill Nursery in Bloomingdale and Carpentersville to get some inspiration!
Platt Hill Nursery is Chicago's premier garden center and nursery.