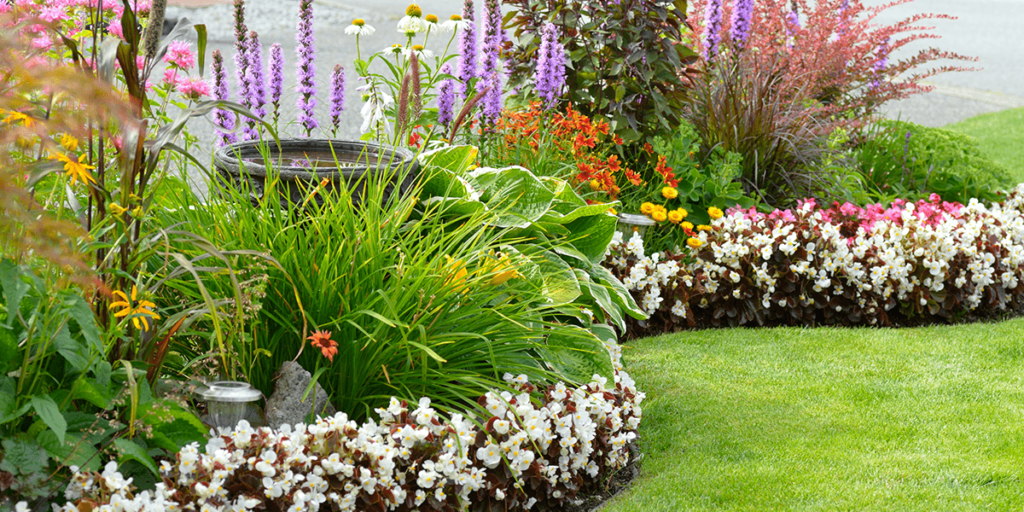 Outdoor landscaping is fun, especially when bringing in some fresh, perennial gardens! Adding a splash of color will impress your guests and brighten your patio design. Lounging on your deck is much more enjoyable when having gorgeous blossoming perennials in flower beds in your view on the patio. This how-to guide uses interior design concepts to educate on perennial selection and flower bed garden designs based on texture, height, complementary colors, and more.
Use Modern Curved Shapes 
Using asymmetrical shapes such as a curved garden adds a unique flair, as modern-day interior designers are bringing this trend outdoors. You can use a minimalistic mindset to guide your style, but build your perennial garden beds in a curvy line instead of a straight-edged fence for a modern look. Your eye will follow the curved design that guides you to the rest of your backyard. Not only are curved gardens trending, but so is curved furnishing! Look for tables and garden art with asymmetrical shapes to add modern decoration to your landscape.

Use Pantone Color Veri Peri
The best minimalist color that many interior designers love is Veri Peri, a taupe, purple-blue shade that you can find in outdoor furnishings and flowers! Pantone picks the most stylish colors for interior designers every year, and Veri Peri is the 'Color of the Year' for 2022. It is popular for its design appeal, as the shade is energetic and vibrant, drawing your eye into the furnishing or blooming petals. Some perennials in this shade are: 
Complementary Colors 
White, grey, marigold, and sage green are complementary colors for this vibrant periwinkle color. Look for plants and containers in these hues to balance your garden's color scheme.

Texture in Flower Beds
Raised beds are ideal for giving your perennial flower beds more definition. You can achieve a modern look depending on which material you use! For example, simple concrete designs can provide an architectural character to a modern garden. Metal is another excellent material that is sleek, requires less maintenance than wooden beds, and can be helpful in a wet environment! 
How to Select Your Perennials
Perennials within the same family can have drastically different heights and spreads, so you'll want to consider how tall your plants will grow when you plant them so that you don't have one tall plant blocking your view of the rest! Plant your tallest plant at the back of your bed and stagger down to the front, adding variation throughout for texture and interest. Tall grasses or ferns are great options for filling out your garden and adding a textured backdrop for your blooms. 
Another aspect to consider is bloom time; if you only choose plants that bloom in the early spring, you'll have a kaleidoscope garden for a brief period and then nothing for the rest of the summer! We recommend choosing plants with various bloom times so that you have color in your garden bed all season, from early spring into the fall. 
As your plants grow and fill out their space, you can reassess if you need to add more perennials. Remember that a garden is a work in progress that you can keep improving every year!

How to Bring It All Together 
To style your perennial garden, you first want to plan where the flower beds will be, whether it's going to be in a raised garden bed or a curved, squiggly line on the ground. Next, plant your selected perennials! To really complete the whole look, consider buying complementary colored furnishings or garden décor to make your perennial flower beds stand out! You can also mix pots and containers in your perennial gardens as they will add texture and height for a modern look.
If you're looking for flower beds to add life to your landscape design, visit Platt Hill Nursery in Bloomingdale or Carpentersville! We have plenty of perennials for sale to elevate your garden. Feel free to contact us if you have any questions. We are always here to help! 
Platt Hill Nursery is Chicago's premier garden center and nursery.