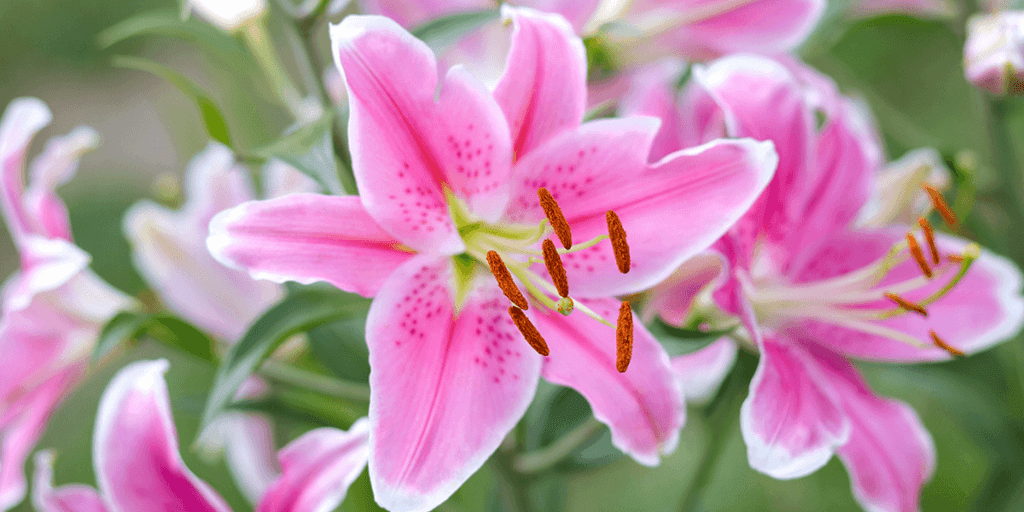 Perennial lilies are vibrant in color and have enormous flowers that showcase during early to mid summer, making them ideal for spicing up your garden if you're seeking something unique! There are two common types of perennial lilies, including Asiatic and daylilies: they have different characteristics to keep in mind while you plan your garden for the ultimate floral display. Whether you're a beginner at growing lilies or an expert, this guide will help you choose the most suitable perennial lilies for your garden based on bloom heights, bloom time, rebloom, and spread.
True Lilies 
True lilies belong to the Lilium genus and include Asiatic lilies, Easter lilies, and trumpet lilies. They grow from bulbs, similar to tulips and daffodils. Daylilies belong to the Hemerocallis genus and are not true lilies, but they are gorgeous in any garden. These two groups differ in height, spread, and bloom time, so you'll want to do your research for a perfectly designed flower garden! If you take advantage of the differences, you can have a robust garden that blooms all spring, summer, and fall. 
Asiatic lilies bloom at the beginning of June for a gorgeous signal that summer is arriving. Asiatic lilies are an excellent choice for adding color to your garden that will come back each year. Our favorites include:
Landini Lilies: these have large, upward-facing, deep red—almost black—flowers and many buds on their straight stems. They're easy to grow, but do need some support with stakes to prevent their long stems from snapping in the wind. These lilies prefer full sun but can also thrive in partial shade. 
Landini's stems grow over 3 feet tall when fully matured and blooming and spread approximately 16 inches. You can expect these gorgeous blooms to emerge in early to mid summer.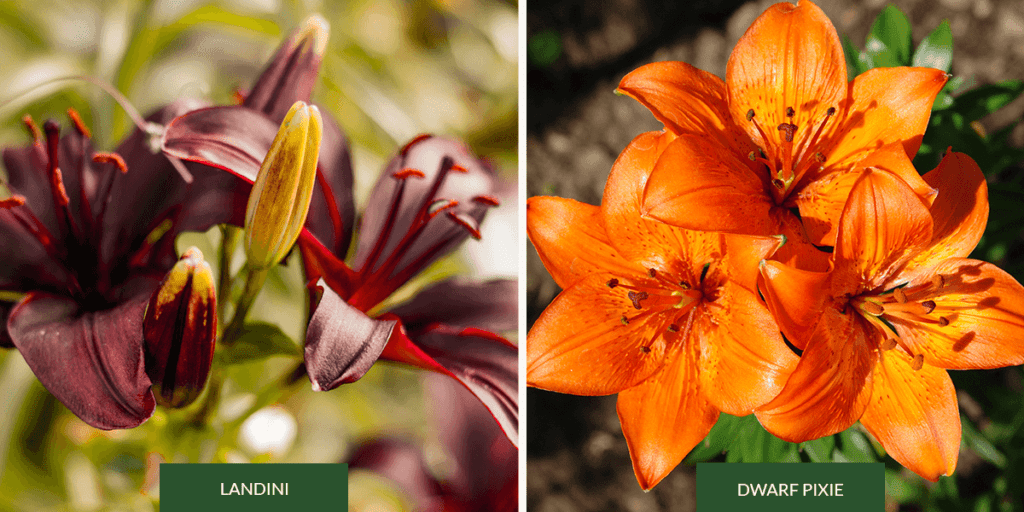 Dwarf Pixie Lilies: these have large, orange, pink, yellow, and crimson flowers with freckles in the center of the upward-facing blooms. The gorgeous, bright colors will last for multiple seasons of blooms! 
Dwarf Pixie lilies reach up to 2 to 4 feet tall at maturity and spread much less than Black Jack lilies, only reaching about 10-12 inches wide. They also bloom later in the season, usually mid to late summer.
Daylilies
Daylilies are one of the easiest perennial lilies to grow because they are drought-tolerant and hardy, surviving without water for weeks at a time. Daylilies generally prefer full sun and are best planted in the spring or fall when it's cool out. Some fantastic daylilies include the following:
Orange Daylilies have green leaves and orange petals, with unique foliage that looks like ornamental grasses. Orange daylilies are light feeders and reach up to 2.5 feet in height at maturity, with a spread of 2 feet. They flower in the summer and are hands-off for most of the season. They are happiest in bright sunlight and mimic the with their stand-out blooms.
Stella D'oro Daylilies have bright, golden-yellow blooms that will add bursts of sunshine to your garden beds. An excellent choice that you can place in the front of your garden for extra pizazz. The blooms reach up to 2 feet tall and spread up to 10 inches at maturity. Stella D'oro blooms in spring and summer, bringing a flurry of yellow blossoms that will reappear later in the season. 

If you're looking for the best perennial lilies that Chicago offers, visit us at Platt Hill Nursery or contact us today! We are happy to answer any questions you may have about perennial lilies so that you can have a gorgeous garden.
Platt Hill Nursery is Chicago's premier garden center and nursery.